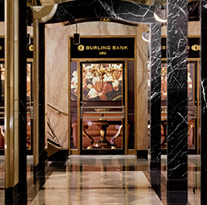 About Us
When you choose Burling Bank, you are getting more than a financial institution or bank account. You are gaining a relationship with knowledgeable, experienced people who are committed to your future and financial stability.
Founded in 1989 by leaders in the city's business, financial and exchange communities, Burling Bank takes its name from the distinguished Chicago architect and builder Edward Burling (1819-1892). With a pioneering spirit and strong work ethic, Mr. Burling was a prolific designer of many prominent buildings in Chicago, including a distinctive structure that once housed the Chicago Board of Trade.
Burling Bank is a full service, privately owned retail bank located in the heart of Chicago's financial district. Contrary to the industry trend toward commoditized and impersonal banking, our owners and decision makers are right here in our office working with our customers on a daily basis. Because of this personal and frequent contact, we can stay focused on, and committed to, the individual needs of those working in the Chicago business and financial communities – allowing you to benefit from our experience, responsiveness, and flexibility.
Whether your banking needs are straight forward or very complex, Burling Bank is equipped to provide you with the exceptional, individualized service you deserve. The relationships that we have built with our customers are very important to us and what distinguishes Burling Bank from the competition. The strength of these relationships is responsible for our past success and the foundation for our future.